At Dale's Truck Parts, we strive to bring our customers the utmost satisfaction. We carry a large inventory of trucks and parts as well as retail and wholesale core parts. Dale's Truck Parts is a buyer of salvage trucks and diesel motors. You call, we haul.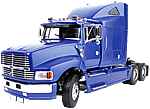 If you are looking to buy or sell specific parts, please fill out our parts request, and we'll will get back to you shortly.
You can also us your list or call
(937) 766-2541 or (800) 848-3589.
We look forward to doing business with you!